Why Our Guests Love Us
FIVE STAR LOCATION An easy walk to just about everything you would want to see, do or eat in Santa Fe.
Our Staff provides a LEVEL OF SERVICE WAY BEYOND what is expected.
LOCALLY OWNED AND CARED FOR.
We are in the final stage of completely ELIMINATING SINGLE USE PLASTICS. We care about our guests and our environment.
Our heralded FULL HOT BREAKFAST BUFFET is available each morning for $10 per guest.
We GUARANTEE you the BEST PRICE available when you CALL us directly (800) 930-5002 or BOOK NOW
We have designated DOG FRIENDLY rooms with enclosed outdoor patios ($25 per dog nightly charge).
We are currently ranked by TRIPADVISOR 6th of 63 hotels in Santa Fe.
TESLA(16kW) and EV(10kW) charging stations available onsite.
"Can not say enough about this little gem in Santa Fe. We booked a casita for 2 nights (#22) based on TripAdvisor reviews and loved the whole experience. The room was perfect and we both loved the cute little extras like the chili pepper on the bath towels, water carafe in each room and the rubber ducks sitting on the bathtub as well as in the birdbath by the parking. Plus, our patio was great. The breakfast buffet for nominal $$ was also very good. And, all the staff couldn't have been more friendly and helpful. We will definitely stay here again on our next trip to Santa Fe."

Danna H. – September 2019
"The staff is caring, attentive, and very customer oriented. Breakfast is great and I love that the motel is eco friendly. Quaint, great price, and comfortable. I will be staying there in the future as needed for business and pleasure."

Culture – Alamogordo, NM, Feb 2019
"Absolutely Perfect!! Friendly staff, comfortable beds, amazing breakfast, well thought out details to make us feel spoiled and comfortable. 10 minute walk to the Square. We will definitely stay here again!"

Compass – Camp Verde, AZ, April 2019
"Great Value & Location. Friendly staff, clean rooms, convenient location, great service. Plan on staying here again. A ten minute walk from both The Railyard, the Plaza and Palace of the Governors. Lots of restaurants in the area."

Greg T – Denver, Colorado, May 2019
"Better than most high end hotels. Loved all of the little things that were included with the room, from the covered porch with chairs, to the yoga mat and roller (for your back), plenty of hangers, shampoo/conditioner/body wash dispenser in the shower, hand soap and lotion, coffee maker, microwave, refrigerator, etc. Someone knows what they are doing @ this complex! High end hotel owners need to visit this motel and take notes!!"

Pam S – Tulsa, Oklahoma, June 2019
"The best experience! This motel is charming. Small and intimate full of southwest charm right in the heart of the town. We stayed two nights with our dog. The old world charm of the small boutique motel had the best feel. Nothing could've made my stay better. They even had a pet bed along with a bag of dog treats accompanied with a list of local restaurants that were pet friendly. It made out stay. Loved this place!!!!"

Corbetth – Portland, Oregon, February 2019
Neighborhood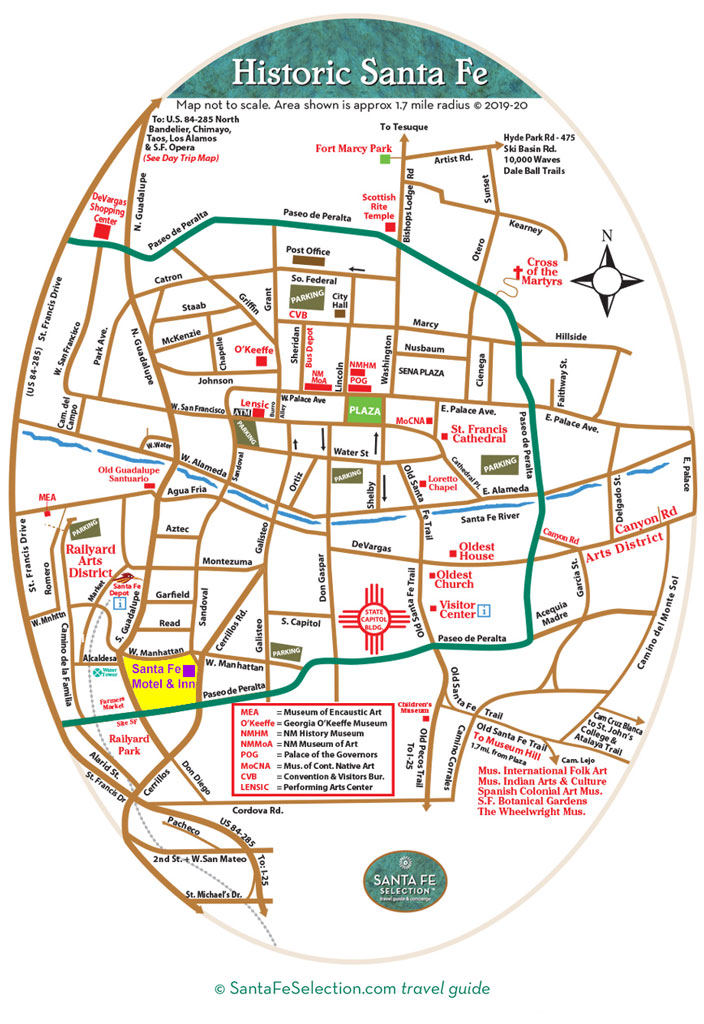 Farmers Market: 0.2 mi
Train Station: 0.3 mi
NM State Capital: 0.4 mi
Whole Foods: 0.4 mi
Santa Fe Plaza: 0.6 mi
O'Keefe Museum: 0.6 mi
NM Museum of Art: 0.6 mi
History Museum: 0.8 mi
Trader Joes: 1.0 mi
Folk Art Museum: 2.0 mi
Meow Wolf: 3.6 mi
Santa Fe Opera: 6.8 mi
Hyde State Park: 8.4 mi
Santa Fe Airport: 12.3 mi
Santa Fe Ski Basin: 16.1 mi
ABQ Airport: 64.7 mi
Taos Plaza: 70.3 mi
Paris, France: 5,127 mi